uncleared sample of reality
the new album is finally out, couldn't be more out. It's called "uncleared sample of reality" and comes as vinyl (download code included) in a beautiful cover with all lyrics and paintings on an additional A1 poster. for everybody without any record player there is also a small edition with handprinted cardboard records that also come in the original vinyl cover with download code and A 1 poster. And for everybody who is just digital - you can download the album on bandcamp - NO Spotify my dear and also nNO applemusic, but if you call me I can hum you a medley of the tracks on the phone ..
small world - big cities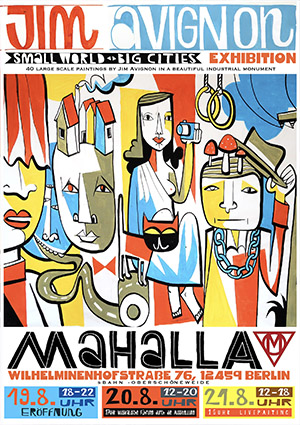 Hello friends. As you know, I have been performing in front of large self-painted stage sets for many years. However, these pictures never end up at exhibitions but mostly in my cellar. In the long lockdown winters I had enough opportunity to search through my own oeuvre and found over 40 large formats from the early technoclub-decos from the 90s to the current stage design of Andy Warhol's garden party. For 3 days I get the Mahalla, a huge former rotary kiln power station transformed into an art venue, to show all the pictures together. Come around - admission is free
long time no hear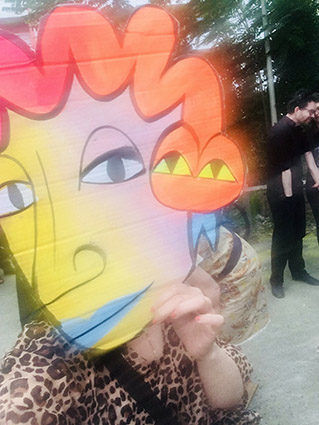 hi friends. this space was abandoned for more than 2 years. there was corona and lockdown.. some stuff did actually happen but it just never made it on my homepage. i did a couple of online shows, not to forget the notorious SCHRANK - KONZERT and i also did live shows during those small timeframes inbetween lockdowns. i also did record 2 new albums wich are going to get released very soon - so lets put this old barge neoangin.info back on the road. i promise there will be news every few weeks from now on.. stay in touch
let us always be together - again !
Its been a long time since I made any updates here. Actually some friends had to remind me to reactive my homepage. I have to admit I was kind of paralyzed since CORONA started. I kind of stopped to feel like a band. with the lockdown my family was at home all the time and I felt kind of inhibited to write new music, live music was impossible and my only attempt in doing a live stream ended up in chaos but thats another story. I did do some nice openair shows during the last weeks but I guess its the end of the season now... to keep the memory alive here is a nice video from some years ago, when a good party was just something. Neoangin live in Amsterdam. all those crazy nice people. unfortunately the sound was really crap, so i had to replace it with the studio-version that never got released. I miss parties!!! i miss people !!! i miss you !!!
1 man band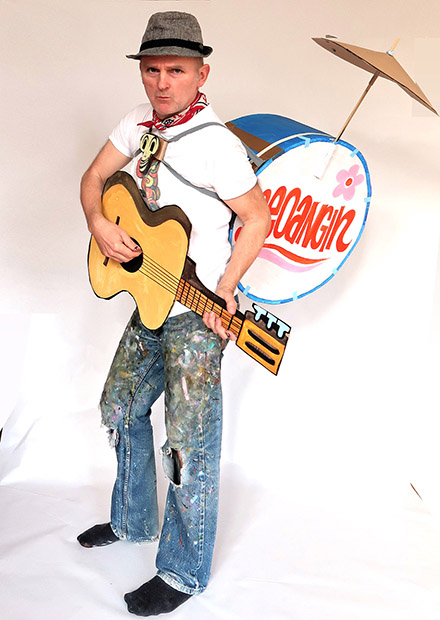 back on the street - on the road again - my suitcase it packed with cables and things - don't need no contract, don't need no hotel - my technical rider got lost in the mail - I'm in a 1 man band - my beats are second hand - I'm in a 1 man band - i come from playback land . Neoangin is back on the road for a couple of shows, finally together again with his old mate NOVA HUTA and he is so much looking forward to see you on one of those next shows...
in the meantime
telegram sam
its hot - stop - spent some nice weeks with my family in beautiful asturias - stop - did a show in paris and a last minute show in munich - stop - people are always nice to me - stop - no idea what next - stop - met young people who had to listen to my music when they were small kids - stop - met old people who said they haven't seen me in 15 years and that i didn't change a bit - stop- is that good or bad - stop - it's still hot
springtime in Kreuzberg
Finally! people sit outside with early evening beers, trees are getting their leaves out and new songs and ideas show up eventually. And a few shows as well! very exited to support my longtime heroes ART BRUT for their Berlin and Cologne shows next weekend. Not sure what their rather rock-oriented crowd will think about my cheesy keyboard lines but lets give it a try. On may 1 , Labourday, Neoangin will hit Hamburg for a show in good old golden Pudel club, together with my old mate Nova Huta and theres also shows in Frankfurt and Munich on the bill, not to forget gigs in Nottingham, Paris and maybe Prague?
nonstop eclectic cabaret
For a few weeks this old and beautiful website was out of order - no more news about neoangin . Thanks to my most faraway listener Michael from Sydney for telling me i need to fix it. what you missed was my first ever show in Thailand and the notorious xmas party in arkaoda/berlin. It took the notorious Metz brothers ( thanks guys) 2 months to fix my homepage problems but now it seems to work again, wich is good, because there is quite a few things to announce. Take a look at the shows section. Looks like I will have a busy first half of 2019. Not only there is shows in places I haven't seen in a while like the Helsinki in Zürich and the Pudel in Hamburg but i will also have some shows together with LOFI rockers art brut, because they are nice people and also because i designed the cover of their last album . Hope to see you here or there . till soon
fuck you spotify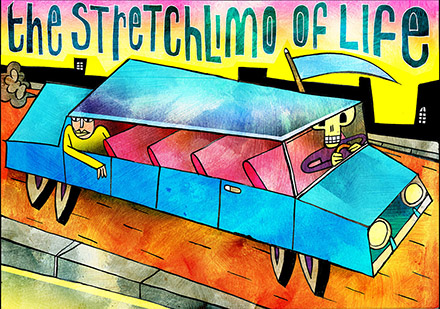 very unexpectedly to everyone here is a new neoangin minialbum. its called the stretchlimo of life. Its not on spotify and not for sale but you can hear it on "youtube" . Every once in a while one gets kissed by the muse and when it happens you have to go with the flow. I decided to release this new mini album out of the blue with just having a couple of songs half ready. there is a few sketches for an unfinished musical about turbo gentrification, some old unreleased stuff and some alternative version etc. all of this unmixed and unmastered but why not. Enjoy and see you at one of the shows…
> READ ALL NEWS

> Get the newsletter
> Facebook-Page
> Subscribe to the RSS-Feed
NEW ALBUM
Highway to Hello
NEXT GIGS
RECENT GIGS
Friday, 16. Jun 2023
D Berlin Schokoladen DJ set

Sunday, 11. Jun 2023
D Berlin Andy Warhols garden Party 2

Friday, 2. Jun 2023
D Hamburg Barboncio with Nova Huta

Saturday, 6. May 2023
D Karlsruhe Studioeins

Saturday, 22. Apr 2023
D Köln Gebäude9 MIAU Party

Friday, 24. Mar 2023
D Berlin POP with INGA

Sunday, 22. Jan 2023
D Bamberg Kino Lichtspiel

Saturday, 21. Jan 2023
D München monabar mit INGA

Friday, 20. Jan 2023
D Stuttgart Galerie schacher

Friday, 25. Nov 2022
D Berlin Galerie Köppe

Thursday, 24. Nov 2022
D Kassel Grimm - museum

Friday, 28. Oct 2022
D Ulm Galerie Schrade

Saturday, 8. Oct 2022
CH Thun Cafe Mocca

Friday, 7. Oct 2022
D Stuttgart - neue Schachtel

Saturday, 3. Sep 2022
D Frankfurt ONO2